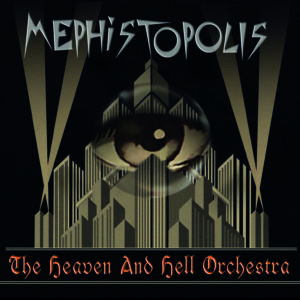 MEPHISTOPOLIS
(Salome Records Berlin 2016)
THE HEAVEN AND HELL ORCHESTRA – Meilensteine des Hardrock & Heavy Metal in malheureusem MonokelPop – Sound! …düstere Kompositionen von dem britischen Orchesterleiter Charles T. Goodhill aus der "Stadt des Satans" – dem Berlin der ausgehenden Weimarer Republik. 20 Songs, die Jahre später Heavy Metal Geschichte schreiben sollten. Eine Collection feinster SchwerMetall-Songs, akribisch ausgesucht und von dem Pianisten Dirk Bewig im Stil der "20er Jahre Jazzkappellen" neu arrangiert…
Endlich, nach knapp 90 Jahren sind diese Goodhill-Klassiker nun erstmals und exklusiv bei uns auf CD erschienen.
Genießen Sie die Hörproben des Albums, stöbern Sie durch die Titelliste, gehen Sie zurück zum Shop oder erwerben Sie das Album als mp3-Download (320 kBit/s)…
Für alle unsere Produkte gelten unsere Allgemeinen Geschäftsbedingungen (AGB)! Alle unsere Preise enthalten 19% MwSt.
…zurück zum Shop oder